January 21st, 2018
The weather improved a bit on Saturday for the Vancouver area, and made life easier for Sam and his Ride the Vibe crew at the Tradex Motorcycle show.  Here he is doing his back-flip on the Outlaw TRRS 300. - Looks to be a good crowd of spectators.
======================================>
The 2018 Dakar Rally is now in the history books, and will list it as one of the toughest yet - lots of crashes, but fortunately none that were life threatening.  - I spite of strong challenges  from other factories, it was one again KTM that came away with the bike victory. German rider Matthias Walkner was the man who conquered the dunes and mountains of South America, when others faltered.
Toby Price from Australia rode hard, and did well to finish 3rd overall after returning from injury.
=======================================>
There is a new Trials book on the market, and no doubt copies of this will be gobbled up quickly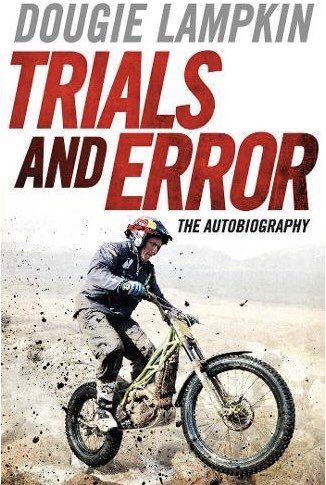 ========================================>
As we look ahead to the 2018 Trials season, it's also fair to glance back at what transpired last year, and in the previous decades in Canada.  - While many people tend to think that our sport is growing, this is only partly true, as it appears that for every area that shows growth, another one slumps, in both bike sales and attendance.
Generally speaking, it was the weather related issues that affected both sales and events last year in Western Canada, the forest fires had things shut down in BC at a prime time during the summer season.
Jamie McGregor of Ontario, has been posting a ton of old photos on the social media, of events from the past, which is a reminder that Trials has always attracted a lot of riders in that region. - It is perhaps fair to say, that at this point in time, the numbers of riders at some Eastern events, is greater than out West.  ( I wish I had some of those pics, when I did my rather hurried article on Canadian Trials for the British Trial Mag: some time ago)
This could be, because the clubs put a lot of effort into catering to the lower classes, making events more attractive to people who just want to get out for a Sunday ride without having to resort to  gymnastics.
Looking back  at the early World rounds in Canada, the bulk of the entrees were all from the home market, where as these days, the sport is completely different at this level.  - There hasn't been a World Round in this Country for many years.
———————————————————–>
How things progress in the future, will I think depend on a lot of things, but in my opinion, all organizers, need to study carefully how they both promote and set up events, in order to succeed. - Somebody once said, that you don't set up a Trial for the winner in the Expert class -  this could be even more true today.  The gulf between the 2-3 top riders and the rest is vast.  - It could be said that at many events, the difference in ability, tends to split the entry into two or three different Trials.
—————————————————————->
Maybe we need to post more pics of junior riders on the web sites, rather than the "Big air" or splat type shots of the top experts.?   -( We need more junior, introduction to Trials, type events at low cost)
————————————————————–.
Here is a list of some of the events on the Calendar for 2018.  If you wish to learn more about Trials in Canada, we suggest you click onto the Trials Canada website. Bob has compiled a great list of results from past events, plus posted info on the WTC.
April 15th         Ioco, BC          Round 1 Outlaw Series (CPTA)
 May 19 and 20      Scotch Creek, BC  Round 2 Outlaw Series (WTC)
 June 3rd           Malakwa, BC       Round 3 Outlaw Series (WTC) 
July 1st           Revelstoke, BC    Round 1 WTC National Series - West
 September 30th     Malakwa, BC       Round 2 WTC National Series - West
======================================================>